After leaving Aarhus, we sailed about 260 miles north to Oslo, the capital of Norway. We approached the dock traveling through the Oslofjord and its 40 islands. Oslo, the land of the Vikings, just celebrated the 1000th anniversary of its founding. We docked in the waters below Akershus Fortress.


Akershus Fortress on the hill above the pier (viewed from the ship)


the modern city of Oslo


the twin towers of Oslo's city hall


scenes in the harbor

Our visit included stops at the Kon-Tiki Museet (museum) and the Viking Ships Museum.

The Kon-Tiki Museum houses the original balsa raft Kon-Tiki with which Thor Heyerdahl and his companions crossed the Pacific Ocean from Peru to Polynesia in 1947, and also the papyrus boat Ra II, which crossed the Atlantic Ocean from Morocco to Barbados in 1970.


The Kon-Tiki Museum


The Kon-Tiki Raft


RA II- front and rear views

The Viking ships on display in the three wings of the museum were found buried along the Oslofjord and are nearly 1200 years old. They were used as burial vessels for Viking rulers.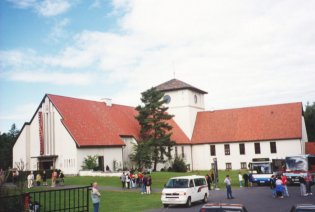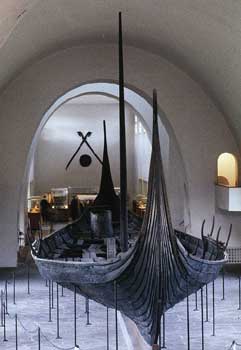 The Viking Museum and one of the 1200 year old ships
Our next stop - and one of our favorite sights on the cruise - was at the Vigeland Sculpture Park. The 80-acre sculpture park contains 212 sculptures in bronze and granite all crafted in full size by the most renowned Norwegian sculptor Gustav Vigeland (1869-1943). The dramatic theme throughout the entire park is that of man's journey from cradle to grave, through happiness and grief, through fantasy, hope and wishes of eternity.


Vigeland Sculpture Park


The main gate to Vigeland Sculpture Park


the fountain and the monolith


a closer look at the fountain and the surrounding tree groups
(there are 20 tree groups depicting the life of man man from cradle to grave)


the bridge at Vigeland Sculpture Park
(there are 58 sculptures along the 328 ft. bridge)


Sinnataggen - the Angry Boy
(one of Vigeland most popular sculptures stands in the center of the bridge)


The Running Boys


The Monolith
carved from a single granite block
there are 121 figures shown being drawn toward heaven


a small lake in the middle of the park


the Wheel of Life - symbol of eternity (front and rear views)

---
Click here to learn more about Vigeland Sculpture Park.
---
These final pictures were taken in the Oslofjord as we prepared to leave Oslo and begin the last leg of our journey - a 600 mile cruise in the North Sea heading toward Harwich, England and a long bus ride to Heathrow Airport and the flight home. What a great trip!

---

That's all folks! Hope you had a good time. As always, your comments are welcome. You may send email below.

RETURN TO TOP OF PAGE