Vancouver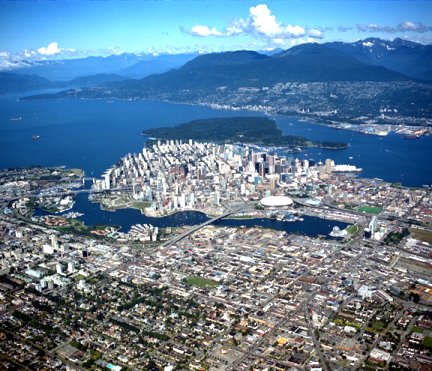 Our final stop on the Rocky Mountaineer train trip was in the beautiful port city of Vancouver. Vancouver is located in the southwest corner of Canada in the province of British Columbia, next to the Pacific Ocean. Vancouver was founded as a sawmill settlement called Granville in the 1870s. The city was incorporated in 1886 and renamed after Captain George Vancouver, a British Naval Captain who explored the region in 1792. It is the third largest city in Canada with a population of 560,000. During our stay, we visited Stanley Park and Queen Elizabeth Park, climbed to the top of Grouse Mountain, walked across the Capilano Suspension Bridge and enjoyed the music and dancing of the First Nation's people and an outdoor dinner in the Capilano park.

---

Stanley Park, named for Lord Stanley, Governor General of Canada in the late nineteenth century, was opened in 1888. It is the third largest urban park in North America and is known as "Vancouver's Playground" with its 1,000 acres, sandy beaches, giant fir and cedar trees, swimming pools, lakes and stunning vistas from every side. The Prospect Point "lookout" is situated atop the highest point in Stanley Park, near the Lions Gate Bridge. Here's some of what we saw.



(click on thumbnail photo to see a larger image)

---

Queen Elizabeth Park also has spectacular views, but its real attractions are the beautiful gardens, the Bloedel Flower Conservatory, and the Photo Session sculpture.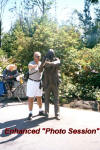 (click on thumbnail photo to see a larger image)
---
Grouse Mountain, "The Peak of Vancouver," is 4,100 feet at its peak. An 8 minute "SkyRide" takes you to the Peak Chalet, a Tribute to the Forest Tour featuring a garden of enormous 16' tall chainsaw carvings, and the Refuge for Endangered Wildlife, home of the orphaned bear cubs, Grinder and Coola. The Peak Chairlift takes you an additional 400 feet to the mountain's highest point. We did it all.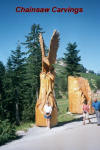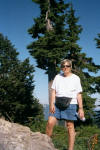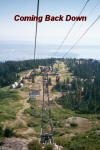 (click on thumbnail photo to see a larger image)
---
The Capilano Suspension Bridge spans 450 feet across and 230 feet above the Capilano River. We walked across the swaying and creaking bridge, enjoyed the First Nations People's native songs and dances, visited Totem Park and enjoyed an outdoor dinner with our tour group.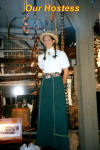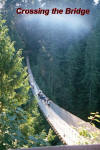 (click on thumbnail photo to see a larger image)
---
The next morning, we boarded the ferry (bus and all) for the trip to Victoria.
---
Back to "Canada - East to West by Rail"
---
Send us your comments by clicking below