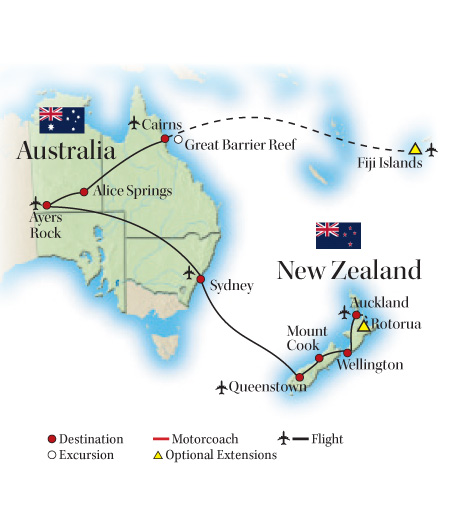 On February 12, 2011, Nancy and I embarked on a month-long journey down under. We visited Fiji, Australia and New Zealand on an escorted land tour conducted by Vantage Deluxe World Travel. This tour was so extensive, that it required 11 separate airline flights, several boat trips and hundreds of miles on motor coaches (large buses). We stayed at 9 different hotels along the way and ate at countless restaurants. Our tour group numbered 24 when we arrived in Fiji and we were joined by another 7 when we arrived in Australia. Everyone was wonderful and we made some new friends that we expect will be part of our lives for years to come. The people that we encountered in these 3 countries were exceptional - warm, friendly, hospitable, fun-loving and hard working. Smiling and being kind to others - even the strangers from America - seems to be a national requirement.
In the pages that follow, you will find our photos from this outstanding trip arranged by country and presented in the order of the major stops on the tour. This memorable trip was one of our all-time favorites. Enjoy - we certainly did.
Australia
Cairns
Alice Springs
Uluru (Ayers Rock)
Sydney
New Zealand
Queenstown
Mt. Cook
Wellington
Auckland
---
Your comments are welcome. Use the link below to contact me.